Police departments around the country continue to make news each time an officer subdues a suspect in the line of duty. The controversy seems reinvigorated after each incident. The general public questions whether police are too quick to pull their trigger, arguing they are trained professionals who should give the suspect more time or shoot to wound. If the law enforcement officers we trust to keep societal justice cannot be trusted with a firearm, why would we trust a civilian with a firearm permit?
Unlike police officers that do not know every citizen they contact, bail bondsmen are aware that their customers have enough evidence against them to be charged with a crime and placed in jail. While the many customers are not violent and will not skip their bail, there certainly are dangerous customers that will do just about anything to prevent being incarcerated. People like this bring the controversy of carrying firearms to light. Some bail bondsmen choose not to carry a firearm while others habitually carry firearms.
Take the March 15, 2015, shooting by Boise, Idaho, bondsmen for example. A 58-year-old male failed to appear for court and a bond of $100,000 was set in the case and a warrant issued for the suspect's arrest. Four bondsmen located the suspect in the parking lot of an apartment complex when the suspect allegedly reached for handgun, causing one of the bondsmen to shoot him. The suspect later died at the hospital (Idaho State Journal, 2015).
Debbie Hicks of Debbie's Bail Bonds in Pocatello, Idaho, explains that many bail bondsmen chose to not carry a firearm, citing that experienced surveillance will lead to a safe recovery most of the time. In cases where a threat is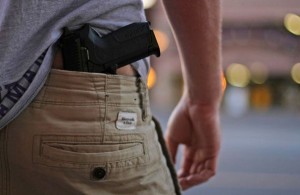 felt, these bondsmen may ask for police assistance. While the U.S. Supreme Court gives bondsmen authority to arrest fugitives, they are not allowed to serve warrants. Because of this, bondsmen may frequently seek police assistance to have a warrant served after the fugitive is located. However, some bondsmen are not comfortable without a mean of protecting themselves. These bondsmen are required to have a permit to carry their firearm and are still subject to the law like any other civilian.
Since bondsmen know they are dealing with potentially dangerous criminals that are avoiding incarceration, will they be more likely than a police officer to discharge their firearm at a suspect in self-defense? Should bondsmen utilize law enforcement resources more frequently instead of approaching dangerous suspects themselves? Each bondsman will have their own preferences based on their experience, comfort with a firearm, and relationship with law enforcement. Overall, bondsmen should weigh the negative and positive consequences of carrying a firearm, understanding that you may be faced with the choice of taking someone's life with only a fraction of a second to make the decision. If you chose to carry a firearm, practice your marksmanship frequently, stay up-to-date on training and the law, and only use your firearm if in a life-threatening situation.